Junior's Cave Online Magazine
Music & Entertainment Blog's
Newest Interview
with Actor/Writer/Producer, Nicholas Downs
& UK Author Susan Mac Nicol
March/April 2017 Winter Edition
Actor/Writer/Producer Nicholas Downs is no stranger to the online pages of our publication. He has been a favorite of Junior's Cave to interview over the years. When we heard Nicholas had a new project he just finished wrapping up, we definitely knew we had to feature him once again. This time around, Nicholas brings with him UK Author Susan Mac Nicol, who has been playfully described as a self-confessed bookaholic, an avid watcher of videos of sexy pole dancing men, geek and nerd, and in love with her Smartphone. Impressively, with over twenty-two novels under her belt in four years, Susan collaborates with Nicholas on her latest novel Sight Unseen which showcases the romantic story between Nate and Cody.  Learn more about Susan, Nicholas, and their new book, Sight Unseen, in our sensational spotlight.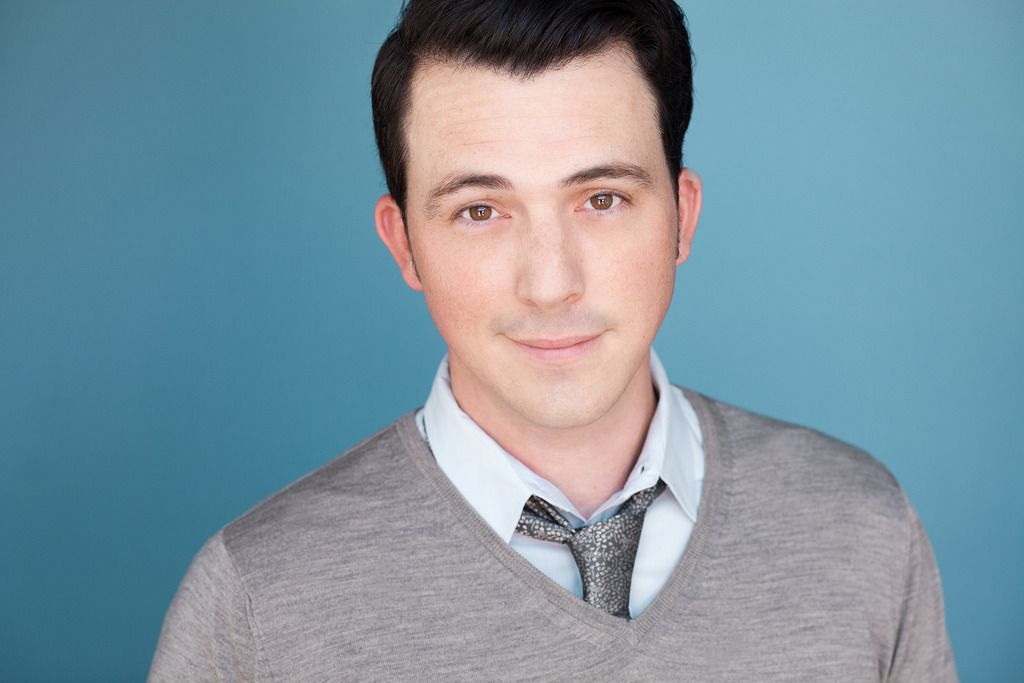 Actor/Writer/Producer Nicholas Downs
Photographer Credit: Tandem
Isaac: Happy New Year Nicholas and Susan. I hope the New Year is starting on a great foot.
Nicholas: Happy New Year Isaac! It's starting out great, thank you. I hope yours is going amazingly well.
Isaac: It is, in fact, made a BIG move from the small city of my hometown in the Southern Georgia area (Brunswick, Georgia) to the BIG city of Atlanta for better opportunities. I am excited.
Susan: Happy 2017 to you too, Isaac. I'm a little overwhelmed so far by everything I have going on, but I'm really excited about it all.
Isaac: Thank you Susan!!!!
Isaac: Thank you for taking the time from your busy schedule to speak to our indie publication.
Nicholas: Thank you for the conversation about our new novel, Sight Unseen. It's always great talking with you.
Isaac: Likewise! 🙂
Susan: Any excuse to wax lyrical about writing and books…. 🙂
Isaac: 🙂
Isaac: Nicholas has been a favorite of ours to interview over the years as we enjoyed witnessing his many career successes. Nicholas, for those who are new to our publication, gives us a little about your background and how you came into acting.
Nicholas: I am originally from Iowa and started my career there doing local commercials, industrials and theatre. A Hallmark Hall of Fame film came through town and I got booked in a role as a young Amish boy. From there I segued to North Carolina to work on another film, which in turn brought me to Los Angeles. I have been here ever since working on my career. I have been in numerous indie features including the hit rom-com Is It Just Me?, as well as major motion pictures Pearl Harbor, Constantine, The Holiday to name a few. Along with guest starring spots on TV shows such as Castle and NCIS:Los Angeles and a variety of commercials and stage productions. As of late I have also been applying my experience to producing and writing as a means to help support and expand upon my career. Connecting with Susan has been a great blessing and a whole new avenue has been opened up to me that was not there before. I so appreciate her for that.
Isaac: Of all your acting projects under your belt, which one stands out as your favorite performance to date and why?
Nicholas: Wow, great questions. There are definitely parts of various projects I can pull from and could talk about how they are my favorite. But if I narrowed it down I would probably say, Is It Just Me?. That film was a role I had been wanting to do for a while and the type of film I had been looking for and when it came along, that timing was perfect. I still get messages to date from people who are just now discovering the film for the first time. I love hearing how much they like it and how they connect with it and the character I played. No other project has had quite that lasting effect.
Isaac: You have also produced some of your projects. What drove you to want to enter into the role of Producer?
Nicholas: It really started as a way to expand upon my acting. Simply said, to produce things I could also be in or have some active part in. The business has, in some ways, started to shape itself so that artists who maybe couldn't create something on their own due to financial restraints, now have a greater access to those ways. Whether it be making their own web series or indie-feature or the like. I think I've always been able to tap into that side of my brain and business has always been a little longer than show so I thought, why not try and fully understand both words and do everything I can to immerse myself into them.
Isaac: You have done some writing before for some of the projects you starred in but this is something new with co-writing a novel with Author Susan Mac Nicol. How did this brilliant collaboration come about?
Nicholas: Susan actually interviewed me for Divine Magazine and after that interview we kept in touch. After some back and forth emails and Facebook messages we started to learn a bit more about each other. I found out she is a well-established author and really wanted to read some of her work. I read a couple of her books and really liked them a lot. I had a script I had written a few years back and thought it might be a great fit for her to adapt it into a novel. I thought it a long shot, not knowing if adapting from an original story idea was even in her wheelhouse. After she read it she thought it would make a great novel and after sorting out a few contractual deals we were off.
Susan: What Nicholas said! I read the script, loved the concept and knew it would translate really well to a story. It had every ingredient needed, just needed baking lol. Too cheesy?
Isaac: Naw, I love it 🙂
Isaac: Susan, I had the pleasure to do a little research about you and the books you have written. You have been playfully described as a self-confessed bookaholic, an avid watcher of videos of sexy pole dancing men, geek and nerd and in love with her Smartphone. Elaborate a little about your background and what drove you to want to write the sexy novels of two men falling in love.
Susan: Oh good gracious, where to start. I've always written since I was a kid, I got my first old Imperial typewriter when I was ten. I still have all the stuff I wrote on that, in a file in my outside storeroom. I wrote a children's story back in South Africa, where I lived for 30 years, got myself an agent and never followed through. Life and enjoying myself got in the way. It wasn't until 2012 when I started writing with a view to getting published again. (Truth- I fell in love with Benedict Cumberbatch and the only way I could get close to him was by writing a character based on him and making him do sexy things…I guess my own fantasies played out there!) And of course it had to be romance story….
My first submission was accepted by my publisher, Boroughs Publishing Group and things snowballed from there. As for the pole dancing- I wrote a book with a character who pole danced and decided to start my own Facebook group. We now have over 2000 members and a 'clientele' of some of the world's best known male artists. One of them even appeared on my cover for Suit Yourself.
Isaac: Obviously, you are a romantic at heart. Describe the underlining theme in all of your novels you have written.
Susan: Ahem. I feel like a fraud. I'm actually not very romantic myself. My husband is forever astonished at what I write, knowing I'm not particularly soft and cuddly when it comes to romance. I guess that's why they call it imagination. I do appreciate a happy ending though and with all the misery in the world, where's the harm in writing a story where two people have their Happy Ever After? I love the idea of creating my own worlds where I can make everything right and ensure some happiness.
Isaac: Have you gotten any slack from "haters" who may say "A woman cannot write passionately about two men being in love". What would you say to this argument?
Susan: Oh-My- God, this is a recurring theme in the M/M genre. Yes, there are a lot of haters out there. Ignorance runs rampant. I guess my stock answer is 'Hello, Jules Verne didn't live in a submarine under the sea, he didn't travel around the world in a balloon and he most certainly didn't go the moon. I'm pretty sure he didn't make it to the centre of the earth either.' He used his creativity and imagination to create his worlds and it's no different to what we as women do when we write about male-male relationships. We might not have the *ahem* equipment to actually experience sex like two men do together but by golly, that's what research is all about. I'll say no more though because I don't want to appear like a pervert. Suffice it to say I have plenty of gay friends – one of them classes himself as my 'Cultural Liasion' and the other test drives my sex scenes with his husband…. I get feedback from them 🙂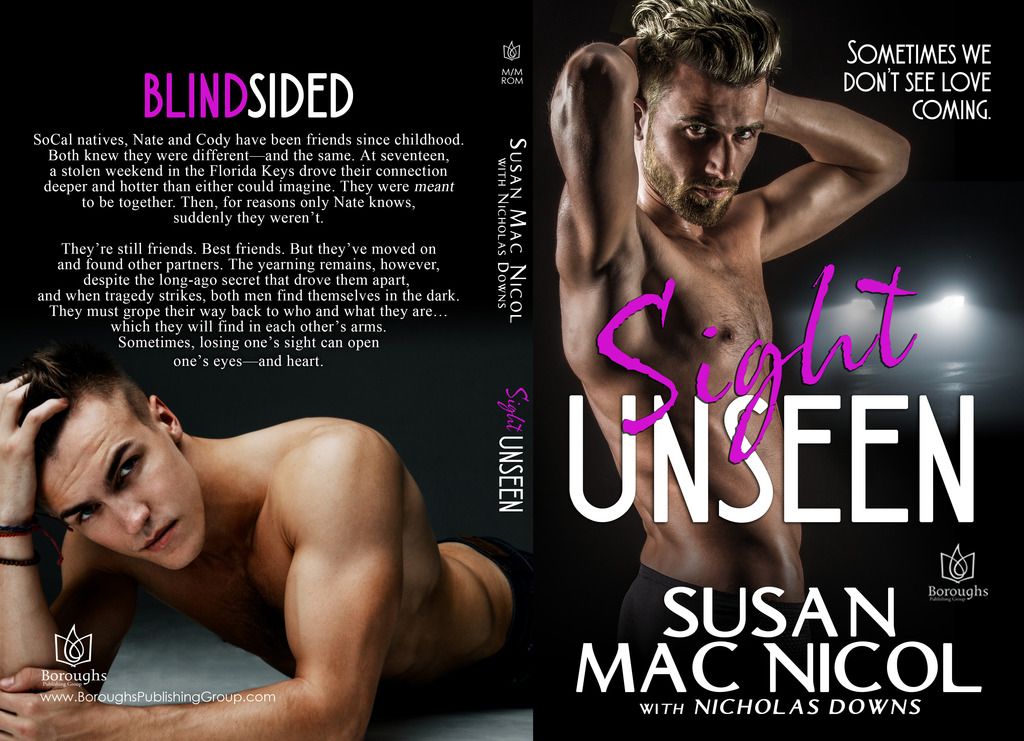 Isaac: Let's discuss your latest novel, Sight Unseen, in which you collaborated with Actor/Writer/Producer Nicholas Downs.  Elaborate a little about the background of the story between Nate and Cody.
Susan: Nicholas's script clearly defined Nate and brought into play the friendship between him and Cody. When I got to the end, I just knew this had to be a friends to lovers story. Cody needed more of an active role and I think in the book I did that. The non-romantic in me (heh heh) made me want to give them both an HEA and I saw it being a journey the pair took together along with misunderstandings, secrets and passion.
Isaac: I am curious as to know from both Susan and Nicholas what authors do you guys like to read? What book or books have had a strong influence on you or your writing?
Nicholas: I feel like Susan is going to impress you quite a bit more with her answer to this. 🙂 But my experience has been more of an influence from the film perspective and how great cinema has influenced me and my writing. As most of my writing has been for film or web series based projects. But, I am also greatly influenced by great playwrights: Arthur Miller, Clifford Odets, Tony Kushner, Eugene O'Neill to name a few. And on the screenplay side, Jim Sheridan or the writers of the film, The Impossible have been great influences of mine as well.
Susan: Oh Nicholas, you have never been more wrong, lol. You have a far more esteemed reading list than I do! I am not someone that reads great works or muses on anything too deep and meaningful. I like dross and easy reading, happy stories (hate sad endings) that are not too taxing on the brain. My favourite authors are Stephen King, Joe Donnelly, (I love horror), Agatha Christie, Phil Rickman's Merrily Watkins stories and of course, too many MM authors to note. However my fan girl crush in the genre is Harper Fox who is an exceptional writer and I actually got to have dinner with her recently!
Isaac: Susan and Nicholas. Could you describe the mundane details of writing: How many hours a day do you devote to writing? Do you write a draft on paper or at a keyboard (typewriter or computer)?
Nicholas: I wish I had that discipline, it's really more about when I can carve the time out between the other things going on in life and my career. I work from my computer when I write, a keyboard is the best way for me to get it to flow from me to the written word.
Susan: Usually, I devote close to three-four hours a day writing, and as much time doing the social media promo that goes with the brand building. I work full time four days a week so for me, the best time is night time. I try to relax on weekends, spend time with family and do the mundane real life tasks. I've written 22 books in four years so to keep up the impetus, and make sales, I need to devote the time to it. I write straight to PC screen, no paper for me. I don't have one single hard copy of anything I've written including drafts etc.
Isaac: Do either of you write every single day?
Nicholas: I plead the 5th…oh shoot I already gave myself away with my answer above.
Isaac: 😀 Brilliant!
Susan: I try but I do fall down. There was a time for two years I did it religiously, making myself do it. Now not so much, I've slowed down a bit. My doctor calls me a 'high functioning over achiever' and tells me to take it easy a bit more 🙂
Isaac: Any writing rituals?
Nicholas: Bear my soul, cry, get mad, smash the computer, give a good 'stink-eye' to myself in the mirror…repeat. What? too much?
Susan: Nope, nary a one believe it or not. I just need coffee to get me going.
Isaac: Ballpoint, uniball or fountain pen?
Nicholas: I think my autograph looks best with a uniball, wait, is that your question??
Susan: I like a good uniball myself…
Isaac: Do you meet your readers at book signings, conventions, or similar events?
Nicholas: We are actually attending a convention this March together called, California Dreamin', where we will get an opportunity to sign Sight Unseen the novel together. And we will have a couple other signings planned for that week as well. One in particular will take place at The Abbey in West Hollywood.
Susan: I do a lot of local UK events and book signings, the biggest one being the UK LGBT Meet in September each year. It's fun, an opportunity to meet the fans and a great occasion to have a few drinks with everyone that makes up our tight knit M/M community. It's an incredible collection of people we have. And what Nicholas said.
Isaac: Susan, are you planning to adapt any of your stories to the screen?
Susan: Well, of course, Sight Unseen which you've read about previously. Nicholas and I are working on the screen play, something very new for me, not so much for him. We make a tremendous team and we are definitely soul mates when it comes to developing the script, and having the same passion and ideas to make it a great film. From there- who knows? Maybe there's scope to adapt other books of mine too.
Isaac: I love it!!!! 🙂
Isaac: What's more important: characters or plot?
Nicholas: I'd say both, without plot you have no story, without characters you have no life and no-one to care for.
Susan: I don't plan my stories, I'm one of those people who just sit down and let the story tell itself. My characters tend to make themselves known before the storyline unfolds. Character development is critical and with that, they tend to guide the story. I can't tell you how many times I've sat back and thought 'Huh. I didn't see that one coming.'
Isaac: Interesting.
Isaac: How hard is it to establish and maintain a career in fiction writing?
Susan: It's very tough. When I first started out in my genre, I would flip through my Kindle to buy something new to read and not be able to. I'd read it all already. There were a few releases a day and sometimes not one. Now, we're looking at close to 20-40 new releases per day. The market has grown, competition has done the same and it's difficult to get on top and stay there. All a writer can do is keep producing stories that are quality and set to a standard your readers expect and be happy with that. That's all we can ask.
Isaac: For those of us who are interested in getting a copy of Sight Unseen. Where can we buy this novel online?
Here are the buy links –
♡BOOK LINKS
Amazon UK http://amzn.to/2gONa4B
Amazon.com https://www.amazon.com/dp/B01MXPNOA5
iTunes http://bit.ly/SightUnseen2gJNrtj
Barnes & Noble http://bit.ly/SightUnseen2gblQO9
Kobo http://bit.ly/SightUnseen2gYnYwq
Boroughs http://www.boroughspublishinggroup.com/books/sight-unseen
Isaac: Where can we find Susan and Nicholas online?
Nicholas: Well my address is…just kidding. Here are some places for me:
Facebook: https://www.facebook.com/ActorNicholasDowns
Twitter: @NicholasDowns
Instagram: nicholasdownsactor
Susan: Here you go.
https://www.facebook.com/authorsusanmacnicol/
https://wwww.susanmacnicol.net
Twitter @SusanMacNicol7
Isaac: Any last thoughts for our readers?
Nicholas: Even if you think this book may not be for you at first glance, look deeper. We believe there is a story here that's universal. That touches on elements and situations in life that we all go through. Thank you for taking the time to read this interview, we so appreciate it. And thanks for all the continued love Isaac.
Susan: Firstly, thanks so much for the interest in interviewing us. It's really appreciated. Secondly, I think this book has been challenging for me in a number of ways. I had to write as a blind man and make sure I was believable; and I had to write my characters in a setting I've never been too, namely LA. This is the first time I've set a book outside the UK. Luckily, I had Nicholas there to sense check me. I'm also very disciplined in researching my topics- I've stayed in a circus to get the feel for it as I'm setting a book in one -so I was out of my comfort zone with Sight Unseen. I hope the love and passion I had for this story comes across. And to echo what Nicholas said- thanks for the love.